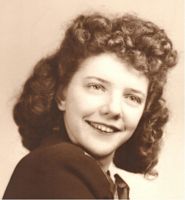 Bertha S. Jaworski, 86, of Utica passed away Monday, August 27, 2012 at home with her loving family at her side.

Bertha was born on May 7, 1926 in Utica, the daughter of George and Mary (Grzesiak) Skiba. She was a graduate of T. R. Proctor High School and attended MVCC. On October 4, 1952 she married Henry Jaworski in St. Stanislaus Church, a blessed union of almost 60 years. Bertha was employed with the Utica School District and retired from Utica Psychiatric Center in 1988. She was a member of Holy Trinity Catholic Church, Walter Skiba Post #20 Auxiliary, Mother Marianne's Prayer Group, Eternal Father's Prayer Group of Chadwicks, Legion of Mary at Holy Trinity, Sisters of Nazareth, a charter member and adorer of the Perpetual Adoration Society, Beta Sigma Phi and the Holy Trinity PTA.

Surviving besides her beloved husband, Henry are three sons, James Jaworski and his wife, Kristine, Santee, CA, Walter Jaworski, Clinton and Paul Jaworski, Rome; daughters-in-law, Deborah Hailston Jaworski, Deerfield and Gina Jaworski, New York Mills, whom she considered to be her daughters; grandchildren, Stephanie and Grace Jaworski; brother, Robert Skiba, Raquette Lake; special brother-in-law, Edmond Urbanik and many nieces and nephews. Bertha also leaves many special friends, especially Betty Frank, Mary Kent, Mary Charubin and Genevieve Wilczek. She was predeceased by two sons, Eric R. Jaworski and baby Theodore Jaworski; sisters, Helen Ochab, Genevieve Boduch, Maryanne Brodowski and Anne Urbanik and brothers, Joseph, Stanley, Peter and Walter Skiba.

The Jaworski family would like to thank their many friends, family and religious friends for their prayers, support and love throughout her illness. A special note of gratitude is also extended to Hospice & Palliative Care and their volunteers for their compassionate care. All will miss Bertha's sense of humor, welcoming smile, infectious laugh and love for her family. She always considered the needs of others before herself and she deeply loved spreading the message of Divine Mercy.

Remembrances in Bertha's name may be made to Holy Trinity Church or Hospice & Palliative Care, Inc. Envelopes will be available at the funeral home.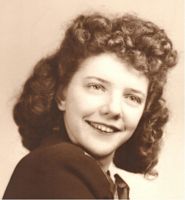 Relatives and friends are invited and may call Monday from 2-6 p.m. at Myslinski Funeral Home, 470 French Rd., Utica. The Divine Mercy prayer will be offered at 3 p.m. and Walter Skiba Post #20 will have services at 5:30 p.m. Funeral services will be Tuesday at 9:15 a.m. from the funeral home and 10:00 a.m. from Holy Trinity Church where a Mass of Christian Burial will be celebrated. Interment will be in Holy Trinity Cemetery.
Mr Jaworski, Please accept our sympathy at you wife''s passing. Mom, Regina Zagraniczny, spoke of her often often with regard to the Legion. I was present when you both visited Mom in the hospital. Now they both share the promises of Our Lord in heaven. Find comfort in your beautiful family. God bless you and yours Stan
Posted by: stanley zagraniczny | Monday, September 03, 2012
---
Mr. Jaworski and Family: Please accept my deepest sympathies for your loss. Though the void will be noticed, I pray the love of family and friends continue to surround you with wonderful memories of how Mrs. Jaworski touched other''s lives with her own. Her obituary was lovely. There is no doubt the contributions she made while on this earth will live on and be an example to others. Blessings and comfort to your family.
Posted by: Elizabeth Schlaegel | Monday, September 03, 2012
---
My prayers and sympathy are with your family Paul. May she rest in eternal peace!
Posted by: Nicole Lawrence | Thursday, August 30, 2012
---
Bertha was such a joyful person with a heart for the Lord. She will be missed by many, I will miss the phone calls when I was at Kris and James'' for your weekly talks. Such a sweet lady, always thinking of others and sharing her faith. You are all in my thoughts and prayers. And as Bertha always said "God Bless".
Posted by: Kim Ward | Thursday, August 30, 2012
---
I was so sorry to hear of your Mom''s passing. I''m so greatful that I got to spend time with her working on the photo albums. She was a good woman with a beautiful heart. She didn''t make it to the earthly Family Reunion at Raquette Lake, but I''m sure she''s having a heavly reunion instead. You''ll all be in my prayers. God Bless.
Posted by: Rose Ann LaBuz | Thursday, August 30, 2012
---
It was our pleasure to have Bertha enter our lives with her enthusiasm, love of life and love of God. We were blessed the few times they visited California to have been with Bertha and Henry as they showed their love once again on James, Kris and Grace. Bertha will be missed by many and leaves a void where a flower was planted and is now gone.
Posted by: Sue and Ted Higgins | Wednesday, August 29, 2012
Post a Message of Sympathy
DO NOT SUBMIT information that you do not wish made public on this site. We review all submissions and reserve the right to reject any messages.